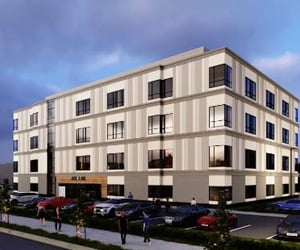 For 25 years, SBH Sciences has supported and guided many start-up companies to value-creating milestones. SBH has assisted over 300 biotechnology, pharmaceuticals, and diagnostics companies world-wide. SBH supported these companies through multiple phases of discovery and development from inception, throughout drug discovery and target validation, and continued supporting them through preIND/IDE work and once they reached clinical trials.

In the last 7 years, SBH Sciences' co-founder, President, and CSO, Raphael Nir, PhD, co-founded and developed ABI-LAB, a Boston-based Accelerator and Bio-Incubator. ABI-LAB's mission is to support start-up companies and to accelerate their drug discovery programs. ABI-LAB has 60 state of the art, affordable lab spaces with offices, as well as innovative pre-clinical services. Currently, 45 Biotechnology / Life Sciences companies reside at ABI-LAB and take advantage of the state-of-the-art shared equipment, private lab space, and many available services.

SBH Sciences is excited to expand its offerings and further assist innovative entrepreneurs by creating a new division: Mentoring at SBH.

SBH is offering to entrepreneurs and start-up companies important mentoring services.

SBH has assembled six very experienced scientists / entrepreneurs, each with over 25 years' experience covering a full range of capabilities in drug/device development, including:
- Analytical Method Design, Development, and Validation Planning
- Bioassay Design, Development, and Validation Planning
- Biomarker Selection and Analysis
- Cell Culture Method Development and Efficacy and Safety Use Strategy
- Companion and Targeted Diagnostic Planning and Development
- Drug Discovery & Development with Medicinal and Process Chemistry Strategy
- Drug Delivery and Formulation Planning for Preclinical and Clinical Projects
- Protein Production & Purification
- Grant Submission Strategy and Execution (e.g., SBIR/nonSBIR NIH, NSF, CDMRP)
- Preclinical and Clinical Protocol Development
- PreClinical/Clinical Development and Regulatory Submissions Design, Planning, Execution, including CMC; GLP; GMP; GCP strategy for preIND/IND enabling preclinical studies.
- Clinical Project Strategy, Documentation, Planning, Execution, and Support

We have been involved in many start-up companies as a Co-founders, Investors, Directors and C-Level managerial positions.

We will strengthen your organization, guide you, providing our experience, to reduce mistakes, better use available resources, save money, and ensure you achieve meaningful value-creating milestones faster. We increase your probability of success!

If your company is ready to go to the next level, SBH would be delighted to hear from you.
List of Mentors
Dr. Erkan Baloglu
Dr. Baloglu is an experienced leader of Small Molecule Drug Discovery; Preclinical Development, and Early Clinical Development programs. He directed successful progression of multiple Preclinical programs to Clinical trials. He led Early Clinical Development of FIC, FIH studies through PoC in oncology (rrMM, mCRC, mCRPC, HR-MDS) indications. He is the inventor / Program Lead of 2 novel oral therapies for oncology indications from early discovery through clinic: Eltanexor (KPT-8602; an oral XPO1 inhibitor; in Phase 2) and KPT-9274 (1st in class, oral, dual inhibitor of PAK4 / NAMPT; in Phase 1). He significantly contributed to the FDA approved oral cancer treatment, Selinexor (XPOVIOTM), from discovery through NDA submission. He is the Co-inventor of KPT-350, a novel oral XPO1 inhibitor for neurodegenerative diseases, acquired by Biogen in 2018. He participated in 5 IND (Selinexor, Eltanexor, Verdinexor, KPT-350, KPT-9274); 1 NDA (Selinexor) submissions.

Dr. Baloglu has 20+ years of experience in the industry; leading Chemistry, DMPK, IP efforts; managing CROs, vendors, collaborations with KOLs. He has extensive experience in aiding VC companies in NewCo creation activities.

Currently, Dr. Baloglu is the Principal at Boston Biotech Consulting, where he works with venture capital and biotech companies to advance their drug discovery, preclinical development programs, and licensing activities. Dr. Baloglu is well-acquainted with the start-up culture.

Dr. Baloglu is an accomplished author with over 65 publications in high impact journals and 30+ issued patents.

You may contact Dr. Baloglu at: ebaloglu@bostonbiotechconsulting.com, or via his Linkedin page

.



Dr. Harry Meade
Dr. Meade is a scientist, entrepreneur, with over 40 years of biotechnology experience spanning preclinical research, drug discovery, and biological production using a disruptive technology. Dr. Meade earned his Ph.D. in biology from MIT and continued in bacterial genetics and industrial strain improvement. In the mid-80s he initiated a novel production method of producing recombinant proteins in the milk of transgenic animals. As the Research Leader of GTC/LFB-USA, a company dedicated to this technology, he championed the scientific development of this production method for contract manufacturing that enabled the high-level expression of dozens of proteins. As part of the team, two self-funded programs were developed, through pre-clinical and clinical trials resulting in successful approvals for human use.

His 22 patents and over 30 publications describe the progress in the field and is also shown in: Ted Talk Boston, Medicines from Milk. He is the Founder and CSO of IGABIO, LLC. You may contact Dr. Meade at: harmeade@me.com



Dr. Raphael Nir
Dr. Nir is a scientist, entrepreneur, and angel investor with over 32 years of biotechnology experience spanning preclinical research, drug discovery, cell-based assays, process development and recombinant cytokines production.

Experience in the commercialization of recombinant cytokines and pre-clinical contract research services. Dr. Nir is the co-founder of four biotechnology companies [Karyopharm Therapeutics, Galectin Sciences, Alma Bio Therapeutics and Vuja De Sciences] two preclinical Contract Research Organizations [SBH Sciences and Woodland Biosciences], two diagnostic companies [SBH Diagnostics and NeuroDex], a venture company [Sky Ventures] and an incubator company [ABI-LAB], which operates 2 bio-incubators in Natick, MA since 2016.

Dr. Nir earned his Ph.D. in biotechnology his M.S. in biochemistry, and his B.S. in chemistry from Tel-Aviv University and his M.S. in engineering management from New Jersey Institute of Technology. He was a postdoctoral researcher at Schering Plough Research Institute where he later became a Senior Scientist / Associate Principal Scientist and developed innovative cell culture processes and solutions related to biological production. You may contact Dr. Nir at: RNir@SBHSciences.com



Dr. Gary LWG Robinson
Dr. Robinson is a scientist, entrepreneur, and angel investor with over 28 years of regulatory and clinical planning expertise which is enhanced by deep experience in primary pharmacology and IND enabling preclinical studies. He is the founder and principal of PhaseDesign Research (PDR).

Dr. Robinson poses a proven track record of effective strategic planning and operations review and provided support to multiple early-stage biotechnologies companies. Since 2002, contributions on strategy, planning, or project execution helped client biotech raise >$100M in dilutive and >$8.5M in non-dilutive early-stage financing. Dr. Robinson is a grant-funding expert sitting on different translational grant review panels. His sweet spot expertise is to identify appropriate and cost-efficient project plans that attain rapid, value-creating, meaningful milestones, e.g., regulatory agreement or proof of clinical relevance data. Broad experience in drug substance and drug product manufacture and formulation development also provides planning focus. PDR has completed many diverse regulatory, clinical, preclinical, and manufacturing projects at exploratory, preIND, IND, and IND maintenance stages. PDR works mainly on small molecules, but peptide, biologic, and device projects are plentiful. Cancer, retinal, inflammatory, and neuro disease projects are a specialty. Additionally, an extensive network of effective and knowledgeable biotechnology experts is available when needed. You may contact Dr. Robinson at: grobinson@phasedesignresearch.com



Dr. Eyal S. Ron
Dr. Ron is a highly successful serial entrepreneur with a proven track record of creating value in the fields of drug development, medical devices, cosmeceuticals, and nutraceuticals. With over 30 years of experience, he has led several start-ups from inception to exit, leveraging his scientific expertise and innovative business strategies.

In addition to serving on corporate boards, Dr. Ron is a sought-after mentor, offering guidance on developing a strong value proposition, conducting effective customer discovery, identifying a company's Minimum Viable Product (MVP), and emphasizing agility and flexibility. He also assists in the development of an effective pitch deck and other corporate strategies. Dr. Ron is actively involved in mentoring organizations such as Biodesign, MassChallenge, and Northeastern's VMN and iCORPS

In addition to his entrepreneurial pursuits, Dr. Ron is an accomplished author with over 100 papers, book chapters, and abstracts to his name. He is also an inventor with more than 50 patents in drug formulations, drug delivery, tissue engineering, devices, and biomaterials. Dr. Ron's expertise and experience make him a respected figure in the fields of drug development and medical devices. You may contact Dr. Ron at: eyal@madash.com



Dr. Eliezer Zomer
Dr. Zomer is a scientist with over 40 years of proven leadership in biotechnology research, chemical engineering and drug discovery. This includes 30 years of extensive research and development in pharmaceuticals and clinical diagnostics, managing multiple programs for industrial and regulatory applications. Have vast knowledge in scale-up manufacturing under GMP and GLP, method development, in-vitro diagnostic, validation and regulatory submission. Developing and submission of standard operation and validation protocols for regulatory approval in clinical, veterinary and agrochemical fields. Excellent record for accomplishing project objectives and developing extensive patents portfolios.

Area of expertise:

Drug discovery, manufacturing (GMP) and developing SOP

Pre-clinical development including animal models and safety studies

Regulatory submissions and Compliance

Analytical Method and Validation (GLP) and In Vitro Diagnostics (IVD)

Clinical Trials, from pre-IND to Phase III You may contact Dr. Zomer at: alicombio@gmail.com