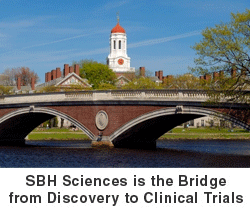 Please enjoy visiting our list of Resources. While SBH is not responsible for any of these third party sites, we feel the content they provide will be of interest to you.
ABI-LAB - ABI-LAB.com
ABI-LAB Accelerator and Bioincubator Lab in Natick, MA supports startup companies through availability of affordable Lab space and innovative pre-clinical services. ABI-LAB collaborates with entrepreneurs throughout their journey to resolve unmet medical needs.
CreaGen Biosciences - www.creagenbio.com
CreaGen Biosciences is a premier chemistry-based drug discovery service company that provides cost-effective, high quality discovery research services to biotech and pharmaceutical companies. Our discovery research service engine can help transform your research ideas into innovative medicines. We can function as an exclusive medicinal chemistry department to help move your concepts to the clinic.
Galectin Therapeutics - www.galectintherapeutics.com
Galectin Therapeutics is applying its leadership in galectin science and drug development to create new therapies for fibrotic disease and cancer. Drug candidates based on the Company's unique carbohydrate technology target galectin proteins which are key mediators of biologic and pathologic function.
Karyopharm - www.karyopharm.com
Founded in 2008, Karyopharm Therapeutics is a clinical-stage pharmaceutical company focused on discovery and development of novel drugs for the treatment of cancer, inflammation and other diseases related to cell proliferation.

SBH Sciences has collaborated with Karyopharm Therapeutics since Dec. 2009 and we are contributing co-authors in their ten scientific abstracts.
Oxford Biomedical Research - www.oxfordbiomed.com
Oxford Biomedical Research develops and markets specialty products for biomedical research, primarily in the areas of oxidative stress, inflammation and eicosanoid metabolism, drug metabolism, signal transduction and vascular biology. Oxford's extensive product line includes over 700 assay kits, antibodies and recombinant proteins.
PeproTech - www.peprotech.com
PeproTech is devoted to providing life science research with the highest quality cytokine products. Over the past 20 years, PeproTech has successfully been developing high yield, low cost methods for the commercial production of over 300 recombinant cytokines, related antibodies and ELISA development kits.
SBH Diagnostics - SBHdiagnostics.com
SBH Diagnostics is an innovative Contract Research Organization and CLIA Lab dedicated to providing accurate and reproducible biomarker analysis services.