Contract Research Organization (CRO)
SBH Sciences is a preclinical Contract Research Organization (CRO) offering extensive products and services. Our Mission is to offer our clients superior products and services and strive to provide exemplary customer service with open communication and on time delivery. SBH Sciences, Inc. supports startup companies, entrepreneur scientists, and the biotechnology industry with our experience and expertise to help shorten your timelines and reduce costs.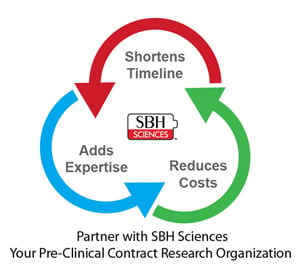 As a leading Contract Research Organization in the Boston area, SBH Offers:
SBH Sciences is the world leader in cell-based assays to measure biological activity of cytokines and growth factors, and has provided services to over 300 biotechnology companies across the globe during our 25 years of business. Our services have helped speed up the process of discovery and biopharmaceutical development by efficiently and effectively using our resources and knowledge. Our services can be customized to meet your company's specific needs. We can provide you with time and cost saving options to give your company a competitive edge in the industry.
Please contact us with your specific needs or any questions related to how partnering with SBH as your Contract Research Organization (CRO) can help your company.

Accelerate your drug discovery & development With Us